Im under 13 stone! I recall training around 1989 usually 3 or 4 sessions a day, including a lunchtime session with Mohssen who was getting ready for the Knockdown British Championships which he went on to win.
I was a mountainbike courier for Wolfpack - a co-operative that we had set up and so was on the bike all day. Id work on the bar and/or nightclub door at night and run home afterwards. I couldnt get below 12.5 stone.
I have got rid of a lot of redundant muscle mass so when i get back to full fitness I'll be starting with a fresh canvass! Im eating well, small portions but all the boxes are ticked. Ive just about cleared my cough and sinus issue, although Caz is still struggling.
"A pessimist sees the difficulty in every opportunity; an optimist sees the opportunity in every difficulty."
Caz's father, Hamish, has recently appeared on Countdown, to be aired on the 6th. Dont worry, I'll be recording it for prosperity as well as for any boo boos he commits!
Meanwhile there is a SIX letter option on this one!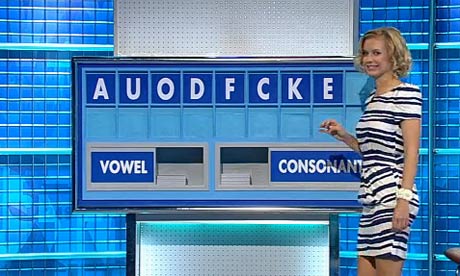 Countdown co-presenter Rachel Riley was left cringing on Tuesday's show after the F-word popped up on the letter board, report the Sun and Star. Host Jeff Stelling grinned when he noticed that the letters U, D, F, C, K, and E spelled out a six-letter version of the swearword. The contestants prevented any embarassment by opting for the five-letter words "Faced" and "Caged" instead. Meanwhile, the dictionary team picked the seven-letter "Dockage" and "Dogface".
Posted:
The other day as one was walking along a secluded wooded lane far from the noise and the brutality and the vulgarity of civilization, right away from everything that was put together by man, there was a sense of great quietness, enveloping all things - serene, distant and full of the sound of the earth. As you walked along quietly, not disturbing the things of the earth around you, the bushes, the trees, the crickets and the birds, suddenly round a bend there were two small creatures quarrelling with each other, fighting in their small way. One was trying to drive off the other. The other was intruding, trying to get into the other's little hole, and the owner was fighting it off. Presently the owner won and the other ran off. Again there was quietness, a sense of deep solitude. And as you looked up, the path climbed high into the mountains, the waterfall was gently murmuring down the side of the path; there was great beauty and infinite dignity, not the dignity achieved by man that seems so vain and arrogant. The little creature had identified itself with its home, as we human beings do. We are always trying to identify ourselves with our race, with our culture, with those things which we believe in, with some mystical figure, or some saviour, some kind of super authority. Identifying with something seems to be the nature of man. Probably we have derived this feeling from that little animal. - Krishnamurti to Himself Ojai California Tuesday 10th March, 1983